About Us|Message from Top Management・Principle
Message from Top Management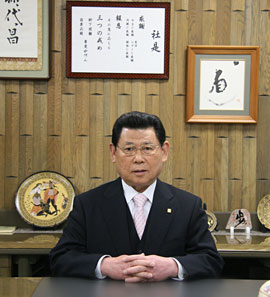 We were established in 1961. In order to obtain the customers' reliance and keep coming up to their expectations, we have been running as specialist of industrial furnace which supports Japanese economy.
Thank to the customers' support, we attained 55th anniversary in 2015.
We are grateful and thanks to solely received a wide patronage from our customers.

Based on Zen words; "Look carefully where your own footsteps fall, Retributive justice, Have an end after all", we improve our skills and earn more creativities toward future to satisfy the customers' demands.
Our next goal is to reach 100th anniversary.
We would greatly appreciate if you give us your further guidance and support.

Toyorozai Co., Ltd. President and CEO


Principle
Management policy
 To contribute to advance the affluent society by our technology and creation toward future
Toyorozai philosophy
 Gratitude
  Be thankful to Life, Toyorozai, Parents, Everything ALL
 Repayment of kindness
  To repay the kindness
  Contribution
 Three admonition
  "Look carefully where your own footsteps fall", "Retributive justice", "Have an end after all"
18 Lessons
"Realization" is the start of all.
Be accepted and have you grow up.
Life is short and 1 time only. Consider deeply how shall we do.
We can not live without neighboring supports. We have to repay their kindness.
Make a day the best. Its effort brings us the best life.
We can change based on strength of the will.
Consider and perform in earnest to gain the reliance.
If you have the inquisitive spirit, you would realize and take delight in the true nature of things.
It is necessary to have enough spare to acquire new knowledge.
"True pursuit",cordiality,truth,essence,ernest,sincerity, absolute reality
Never forget "Be gracious and thankful but not wasteful.""MOTTAINAI"
Have respect for our ancestor.
Don't waste life, time, everything.
Make better company, make better life.
Have the environment of company cheerful mood.
Care of company and customer. It leads to care of yourself.
Transfer the inertia and dryness to sensibility
Always retain and never forget these words in mind "Look carefully where your own footsteps fall, Retributive justice, Have an end after all."