Overseas Business Unit
Toyorozai Co., Ltd. Laos blanch
Click the image to see the enlarged image.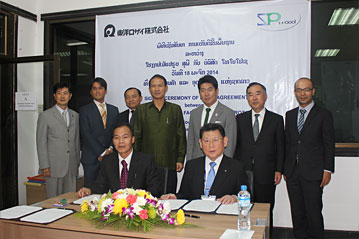 Mr. Norihiko Fukuda - Mayor of Kawasaki and Mr. Osamitsu Yamada - President of Chamber of Commerce and Industry of Kawasaki presence contract signing ceremony of the business collaboration agreement (MOU) between Laotian Wood processing timber company (Shophi) in Lao PDR.(Date: Nov. 2014)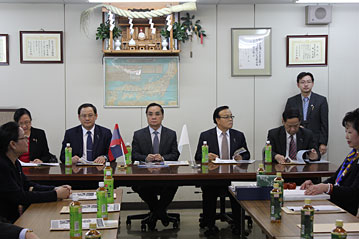 Laotian Prime Minister visited Okawacho Kogyoudanchi (industrial area) where our head office is located at. (Date: March 5th 2015)
Prime minister Thongsing, government officials, and some Laotian companies came to Okawacho Kougyoudanchi where our head office is located at so that they would like to see the actual condition of Japanese small and medium size enterprises.
They chosen Okawacho among from other industrial area because we Toyorozai already established our foot field in LAO from Okawa-cho.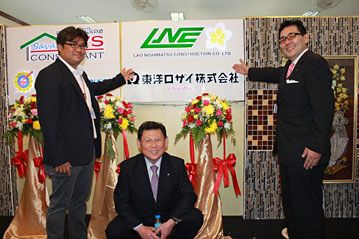 Opening the Laos branch (Date: June 10th 2015)
Laos branch was set up at the Savan-Seno Special Economic Zone (SEZ) in Savannakhet
In front of Laos branch (from left side: consulting firm Savan TVS CEO, our CEO Yamamura, and Toyorozai Laos branch manager)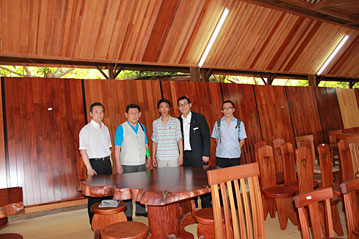 Visiting the local furniture manufacturing. (Date: June 11th 2015)
Visiting the manufacturer which has manufacturing plant and show room at Vientiane.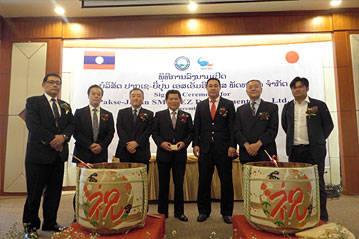 Launching the development company for Pakse SEZ at Pakse Laos (Date: December 12th 2015)
Making a decision on the development for Japan-Laos SEZ at Pakse which is located in South Laos.
As the purpose to development the SEZ attracting Japanese companies, we held an opening ceremony for development company (joint venture by Laos government, Sai Sana Group, Savan TVS, and Nishimatsu Construction Co., LTD.) (Kick-OFF ceremony)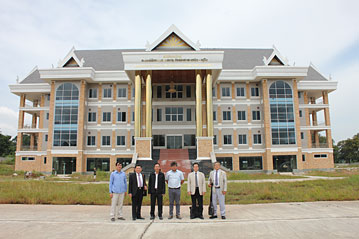 Toyorozai Co., Ltd. Laos blanch
The national government cabinet office building where our Toyorozai Laos branch is located at Savan-Seno SEZ in Savannakhet.