Woods and bricks Business Unit|Recycling blocks
Recycling blocks
Our main products "Recycling block" is ecological using 80% recycling material (water supply sludge, dissolving slag, and scrap glass). Moreover, since this products are not baked in the process, CO₂ is generated a little. The texture is also natural, warm, and soft as similar as antique brick.
The value of sliding resistance is more than 1.5 times than the ordinary reference value. Therefore, it is suitable to barrier free pavement which needs not to be slippy. Also, it has so high water retention function which reduces the occurrence frequency of puddle on the ground comparing to use concrete material that it is easy to take a walk as rainy.

Porcelain block :
It is produced by recycling glass scrap. It has a high surface hardness that it is suitable to be used at the place where the heavy load go through, such as truck.

Earthenware block :
It is produced by recycling the water supply sludge, and suitable to take a walk (pass-by) on it.

Manufacturing process
On the process of manufacturing this brick, it is not baked and there is neither drainage nor waste. That is to say, we contribute to eco-friendly society.

Calm brick-type recycling block
Example
Click the image to see the enlarged image.
Public facilities, park, public square, pavement.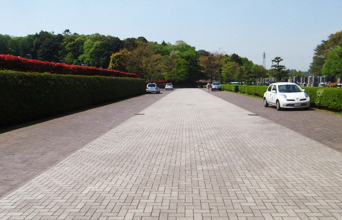 Hayanoseichi park at Asao-ku Kawasaki (Porcelain block)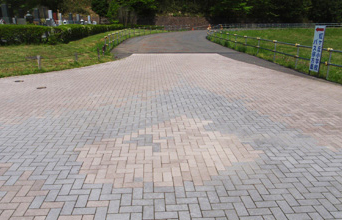 Hayanoseichi park at Asao-ku Kawasaki (Porcelain block)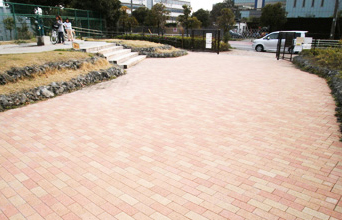 Suehirocho Tsurumiku Kawasaki (Earthenware block)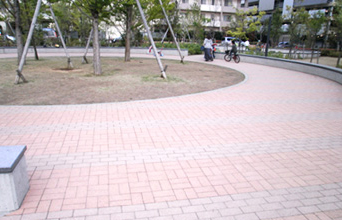 Tsuzukiku Yokohama (Earthenware block)